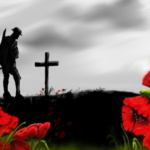 Tim Roche and Tim Mason created a wonderful project entitled 'Heroes Not Forgotten'. The project tells the story of 3 brothers who fought and died in World War 1.
Tim 'Tiger' Lenihan who survived the war and went on to live in Newcastle West.
Michael was killed in action in 1914.
Patrick was killed in action in 1915.
These three brothers were the grand uncles of Tim Roche. His grandfather was the younger brother of these three.
Please click this link to see the project in full:
Tim Roche and Cian Mason- First World War