Frakkar á Íslandsmiðum, minjasafn (The French in Icelandic waters – Local museum)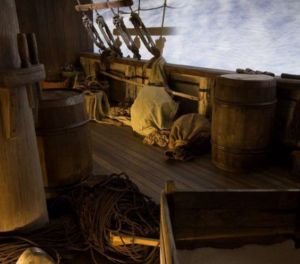 Frakkar á Íslandsmiðum, minjasafn
(Icelandic)
Frakkar á Íslandsmiðum er minjasafn sem staðsett er á Fáskúðsfirði í Fjarðabyggð. Safnið segir sögu franskra sjómanna sem unnu, lifðu og létu lífið á þessum tíma hérna. Frakkar byggðu spítala og læknishús, Sjúkraskýli, Litlu kapelluna og Líkhúsið. Húsin reistu frakkar upp úr aldamótunum 1900, fyrir sjómennina sína og sýnir safnið lifandi mynd af hversdagslífi þeirra og við hvernig aðstæður sjómennirnir lifðu.
The French in Icelandic waters – Local museum
(English)
The Museum is located in two houses in Fáskrúðsfjörður, one of the towns in Fjardabyggd munisipalities. The museum tells the story of the French sailors that worked, lived and died in those times here. The French built a hospital, a doctors house, a sick shelter, a chapel and a morgue. around the 1900 century for their sailors, and the museum shows a very vivid picture of their everyday life and under what conditions the sailors lived.